Introduction: a few words from the Global Management Team
How full of challenges this year has been for all of us! The Pandemic has very intensive impacts on the whole world economy.
But not only the economic aspects deserve our attention. Since the beginning of this year we have been engaged worldwide in following all local measures and taking further precautions to keep our employees safe. By focusing on our employees' health, despite the limitations caused by the pandemic, we needed to just move forward. To adapt to the circumstances, where we were already flexible, we have increased our flexibility; where we were already agile, we have made procedures and processes even simpler; and in addition to areas that had already been digitized, we have digitized even further. And we must say that our digital solutions like the Service App and the EcocleanConnect were what kept the business running, since personal contact was forced to be drastically reduced. With the result that in 2020 there was no standstill in our developments. We took the time to look inside and reevaluate our processes and map further opportunities, markets and industries that we can support with our solutions.
In 2020 we reiterate the SBS Ecoclean Group's position in the light of the current challenges and changes, affirming that, at our Group, it is not only about industrial parts cleaning - it is also about processing and treating. Next to water-based cleaning of diverse industrial parts, we have further developed our solutions for deburring, degreasing, surface activating, removing residues and surface preparation, with the result that we have modern cleaning & surface processing solutions that can easily be integrated into existing production and assembly lines. Which is a great thing, considering that to face the current changes in the industries, many customers need to redesign, optimize or adapt their production lines.
Finally, not only challenges marked 2020. Some industries come out stronger from the current situation, gain visibility and attest their relevance – like the MedTech industry. And exactly for this industry we have developed our newest precision-competence based solutions.
Enjoy reading & stay healthy!
Hongsheng Guo Dr. Zhisen Yu Michael Förster Ralf Dienel
Mark Jackson Frank Gijsen

more
UCMSmartLine: fits perfectly thanks to its modular concept.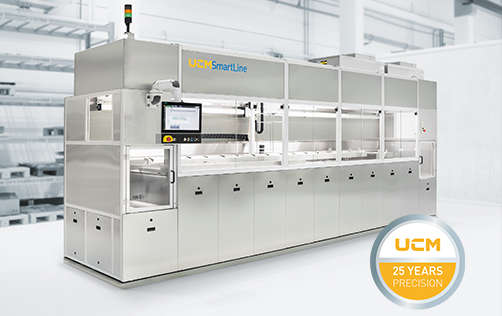 Companies from sectors such as medical technology, optics, automotive & supplier industries, machine tool manufactures, precision parts and microtechnology, watch & jewellery industry, coating industries and the high-purity sector are faced with the challenge of meeting increasing demands for stringent particulate and film cleanliness specifications. A similar situation can also be observed in the MRO (maintenance, repair, overhaul) sector, and also when it comes to processing products from such industries as aviation and electronics, among others.
These demands can often only be met by precision cleaning processes. With the UCMSmartLine customized systems for preliminary, intermediate and final cleaning are configured and extended as required.

Optimally adaptable and future-proof expandable:
The machine can be configured from two and three modules for the process steps "cleaning & rinsing" or "cleaning, cleaning & rinsing", which can be combined as desired. With a further module, two-stage fine and precision rinsing processes can be integrated with cascaded osmosis or demineralized water. The ultrasonic cleaning modules, which are heated and fitted with a filter circuit as standard, can also be adapted to suit a wide range of applications. This enables the use of mono (25, 40, 80 kHz), twin (25/50, 40/80 kHz) as well as multi-frequency ultrasonics (40/80/120 kHz). And depending on the respective applications, drying technologies can also be combined. For loading and unloading (manually or automatically) the UCMSmartLine can be arranged either at the front or at the side, depending on the space available. For cleaning applications requiring an exceptionally clean environment, one or two HEPA filters can be installed on the top of the housing, depending on the length of the system. The UCMSmartLine can also be connected up to a cleanroom.
Fields of application:

Thin film coating: cleaning before PVD/CVD coating of e.g. tools like mountings, drills, cutting inserts, automotive parts, fittings, etc.;
Precision optics e.g. sapphire wafers, micro optical components, lenses, mirrors, prisms, masks, laser components, glassware;
Medical technology e.g. implants, surgical instruments, medical devices, orthopedic parts, prostheses, dental devices, syringes & cannulas;
Precision mechanics / precision parts e.g. sensor parts for the automotive and aviation industry, watch & jewelry components, injection components, valve train components.
The advantages of the UCMSmartLine at a glance:
Modular, multi-stage ultrasonic immersion cleaning system for high to highest cleanliness requirements;
Variable use of mono, twin or multi-frequency ultrasonics;
Flexible transport system for optimized throughput and gentle part handling;
Space-saving design with electrical and control technology integrated into each module;
High-quality machine enclosure protects parts and personnel from contamination and emissions;
High adaptability through optional subsequent module expansion;
Process validation by cleaning tests in the SBS Ecoclean Group worldwide test centers;
Short delivery times & flexible delivery options (in one piece or modular).
more
To learn more about UCMSmartLine solutions, visit the product website and contact our product expert: Roger.Kohnen(at)ecoclean-group.net
German Innovation Award: EcoCvelox won gold!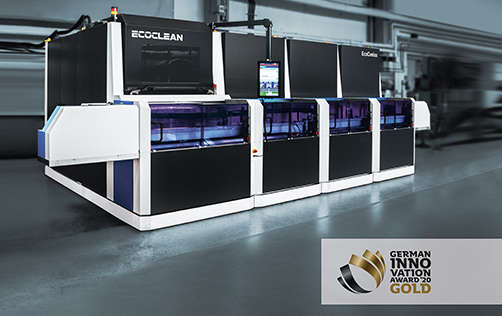 The SBS Ecoclean Group convinced the jury with our EcoCvelox, the modular, all-in-one system for deburring, cleaning & drying of machined components. With the German Innovation Award, the German Design Council honors trend-setting innovations that have a lasting effect and offer added value for the user. A total of 700 entries were received, including applications from industry giants as well as from hidden champions and start-ups. As stated by the jury, "Usually, the processing of the components - high-pressure water jet deburring, component cleaning and drying - was carried out on two systems. With the EcoCvelox, for the first time a system concept that combines the two steps in one system is available, taking into account the need for flexibility and individualization. The result is not only lower costs, e.g. due to short changeover and conversion times, but also fewer disruptions in the subsequent operation of the components."
This is technology that inspires:
What makes this innovative solution so unique?

Everything from a single source: high-pressure water jet deburring and cleaning in a single system;
High flexibility: in terms of system configuration and process sequence thanks to its modular, space-saving unit design, which is individually expandable at any time;
Short down time: fastest CNC axes on the market, minimum idle times of 0.5 sec;
Reduced costs: short changeover and conversion times, simple adaptation to new parts, 50 percent longer tool service life;
Flexible component handling: manual or automatic loading possible, can be integrated into island production and transfer lines;
Intuitive system operation: new HMI panel with touch display, CAD/CAM interface for fast and easy application programming.
Modular CNC deburring, cleaning and drying in one!
See it in action!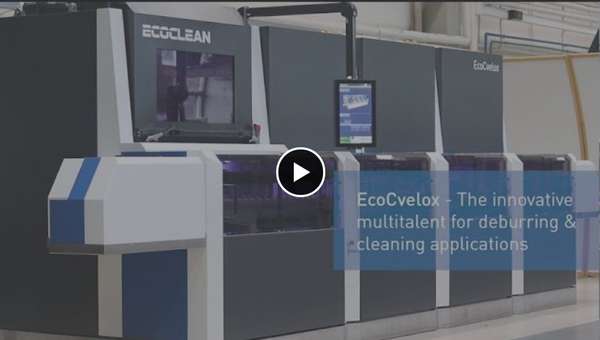 Deburring components for particulate cleanliness
Especially in the case of machined components with complex geometries, cleanliness specifications for particles just a few 100 micrometers in size can only be reliably fulfilled if an effective deburring process is carried out beforehand. But is deburring a manufacturing task or a cleaning task? In a Technical Article about Particulate Cleanliness and Deburring, you can learn more about the details of this combined technology of deburring & cleaning.
Our people and the EcoCvelox:
Members of the EcoCvelox development team talk about their personal favorite machine features and the recognition of the German Innovation Award 2020.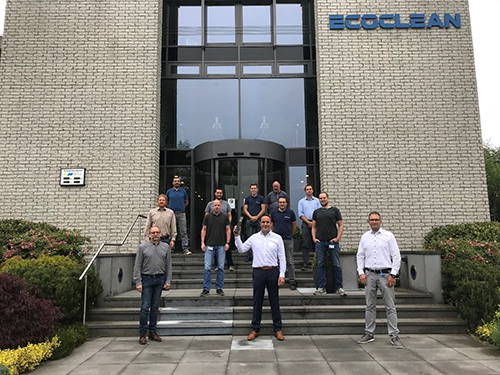 "The development is the result of outstanding teamwork with motivated colleagues at all locations. The SBS Ecoclean Group has given us the budget and trust to develop a highly innovative product with many unique selling points. Together we have successfully implemented this to meet the needs of the market!"

Marko Flatten, Team Manager Product Development.

"As mechanical engineer I was responsible for the development of the CNC axes within the high-pressure module. With this CNC system based on a machine tool, a wide range of workpiece geometries can be covered. In combination with the high-pressure tool changer, the customer is guaranteed a high degree of flexibility. This is only one of many reasons why we deserved to win this award!"

Klaus Sommer, Mechanical Engineering.

"The combination of the flexible workpiece management, flexible recipe management and the innovative transport system allows the customer a completely flexible use of the machine, which is entirely adapted to the workpiece."

Rene Stickelmann, Electrical Engineering.

"Through the combination of high-pressure water jet deburring and component cleaning, the EcoCvelox made it possible to match innovative technology with modern design. Thanks to the compact modular design, the machine can be quickly configured and offers customers many possibilities. This flexibility deserves an award!"

Manuel Stollenwerk, Product Development.
more
To learn more about the EcoCvelox, visit the product website and contact our product expert: Marko.Flatten(at)ecoclean-group.net
Service App: a remote solution in times of social distancing.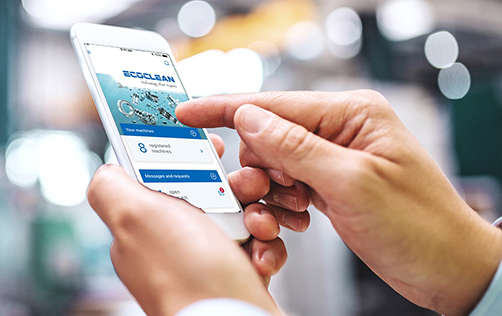 In the face of the current situation worldwide, the use of the Service App has been proven to be the easiest and fastest way of getting assistance and still complying with social distancing rules. With a smartphone, the operating personnel or those responsible for the production lines can open a service request that is already linked to the specific machine via the serial number. The camera on the phone allows the helpdesk team to follow the work closely and intervene immediately. Using the telephone, chat and video functions, questions can be answered in real time and instructions can be given right away. The SBS Ecoclean Group Service App works for all our Group companies: for Ecoclean parts cleaning systems, ultrasonic cleaning systems from UCM and for parts washing solutions from Mhitraa.
Step by step: from installation to usage – a technical summary as reference.
The Service App is available for download on Google Play (Android) and on the Apple Store (iOS). A desktop version is also available. All that is needed is a smartphone, a tablet or an office computer with internet access. After an easy registration, all service issues related to the cleaning system can be managed via the Service App.
Upload the Ecoclean, UCM or Mhitraa machines that you have running in your production site;
Just insert the machines serial number and start using the app for spare parts or service requests, as well as in the case of a machine breakdown.
| | | |
| --- | --- | --- |
| App Installation | | App Desktop Version |
| | | |
Leaving a good impression
Many users are convinced of the advantages of this remote solution. Here are some testimonials about how the Service App has been helping them:
"Since the beginning of this year, my colleague and I have been using your Service App to report machine failure messages. The app works great and the response times to the messages are very good."
(Mr. Mario Lude, HTU Härtetechnik Uhldingen-Mühlhofen GmbH)
"Thank you very much for the quick offer. Works great with the app!"
(Mr. Tobias Krug, Albert Handtmann Metallgusswerk GmbH & Co. KG)
more
Ecoclean Academy: one never stops learning!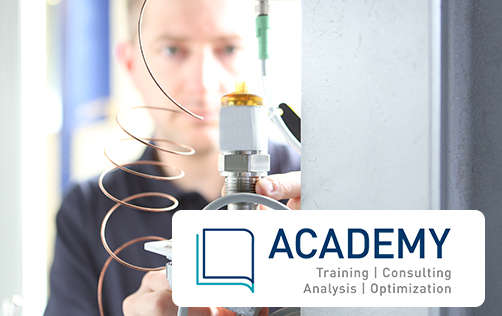 Since summer 2020, the Ecoclean Academy has been part of the Sales Department, which means in practice that the Academy team supports the commercialization of our knowledge- and technology-intensive products and services - before, during and after the sales process. This reorientation of the academy includes the following of the knowledge needs resulting from the changing industry trends and the demand for more time and location independent learning through digital training offers.
Reorientation at a glance – what the new Academy is doing:
Standardization of existing Academy materials accordance with the SBS Ecoclean Group's newest products and solutions;
Creation of new training presentations in German and English with centralized storage within the SBS Ecoclean Group (and thus available to all subsidiaries);
Inspired by the growing demand for online training, integration of illustrative video sequences (hands-on experience) into the presentations;
Due to the increasing demands of customers for process security, process control, process management and the diversification of market participants, we are establishing Consulting as a new business model that will serve the process chain focused on application for customers;
Step-by-step development of a Knowledge Management System for the entire SBS Ecoclean Group (improve efficiency through a lessons-learned database).
Good to know – the Academy within the Group
The Ecoclean Academy is a department of our Group' subsidiary Ecoclean GmbH. Ecoclean GmbH has two locations in Germany (Monschau and Filderstadt) which are the Centers of Competence (CoC) for the SBS Ecoclean Group. As CoC, Ecoclean GmbH is a pioneer for technical competencies and offers all Group subsidiaries operational support for the core business through research, development and innovation.
more
Online events: See you on the screen!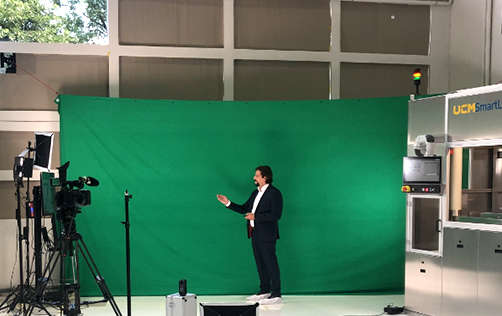 The first SBS Ecoclean Group company to offer webinars this year was Ecoclean India. Based in Pune, Ecoclean India has already held six webinars since June on topics such as cleanliness testing, factors influencing cleaning processes and results, specific product training for aqueous-based machines and for solvent-based systems, and particle analysis with specific filter methods. The webinars offered by Ecoclean India take about one hour and have an average of 60 participants each session. The in-house specialists who conduct the seminars use audio-visual elements to convey the content in a most understandable way. In addition, they guarantee space for discussions and questions from the participants. Each new webinar is also an opportunity to evaluate the current needs of the Ecoclean India audience - participants are invited to answer a survey about their current needs and topics they are willing to deal with, so that the next webinar can cover exactly what the customers need.

| | |
| --- | --- |
| Manoj Velhal, Assistant General Manager Sales, during webinar on cleanliness testing. | |
| Pradeesh Padath, Senior Manager Service, during online product training for aqueous-based machines. | |
Online solutions straight across the ocean.
Ecoclean North America is also using virtual alternatives to keep in touch with stakeholders. Located in Southfield, Ecoclean, Inc. has offered their first webinar to the north American audience on August 26th. The topic discussed was service, specifically about how to reduce downtime and extend the life of the washers. Later, on September 21st, the colleagues in the US have participated in the IMTS Spark, a complete digital version of the traditional and well-known IMTS Exhibition, where they offered a webinar for the virtual IMTS visitors about new cleaning technologies. On November 18th, Ecoclean North America offers a webinar to customers on the topic of Life Cycle Spares Management. The invitations for the customer service webinars were sent via email and the invitations for the webinar on new cleaning technologies were sent via email, Products Finishing e-newsletter and social media postings.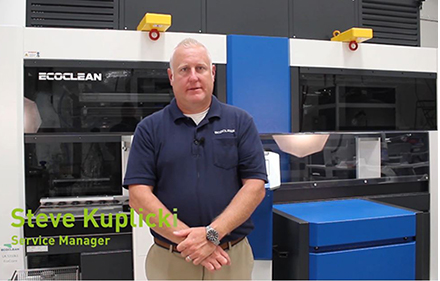 Steve Kuplicki, Service Manager Ecoclean, Inc., during the webinar about how to reduce downtime and extend the life of the washers.
Introducing innovations through virtual exhibitions.
On September 29th, the Swiss Group member UCM launched the new UCMSmartLine during their 1st Virtual Customer Day. This has been the SBS Ecoclean Group's debut in virtual trade shows. Our first virtual booth was an excellent alternative for showing our latest development - a modular, immersion ultrasonic system - while exhibitions were cancelled or postponed. Above all, the solutions brought along with the UCMSmartLine cover a current demand in the area of precision cleaning, e.g. from the MedTech industry, which could not wait for the next opportunity to present this product personally.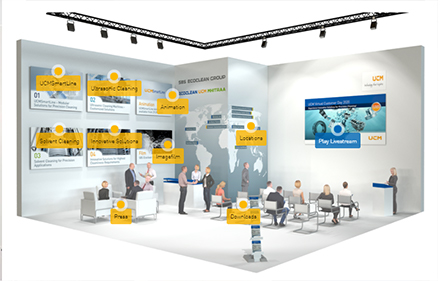 The interactive UCM virtual booth is still online and can be visited anytime.
Next online events and webinars:
The SBS Ecoclean Group Centers of Competence in Germany are hosting two webinars on the Basics of Industrial Parts Cleaning in German as well as in English for the German and European audience in November. In December another webinar series with advanced topics such as cleanliness demands as well as new cleaning technologies will follow. Invitations to the webinar series will be sent by e-mail and can also be found in the Events Section of the Group's website.

more
For more information about webinars and other online initiatives of the SBS Ecoclean Group, please visit our websites and follow us on LinkedIn:
list

Document
Date
Title
Language
Download

2018/03/21

21.03.2018
EcoCnews Spring 2018
Rising Momentum for Parts Cleaning & Surface Processing

Download

2018/10/29

29.10.2018
EcoCnews Summer 2018
One Global team for your local needs: Ecoclean's cleaning solutions in practice

Download

2020/11/17

17.11.2020
EcoCnews Autumn 2019
Flexibility: Because the time has come

Download